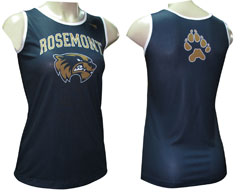 All sublimated uniforms are CUSTOM and NON-Returnable. Once you approve the artwork, the order will proceed. All Designs are the property of the client and cannot be used by other teams without permission.
Dye sublimation is a process in which all design elements including logos, lettering, numbers, team names, sponsor logos, etc. are dyed directly into the fabric. This has the advantage of being permanent, and actually becomes part of the fabric as opposed to screen printing which will eventually wear off and deteriorate. It also makes the uniform very lightweight and breathable. All colors are matched exactly to your specifications or existing uniforms colors. Artwork can be anything you can imagine (and provide to us for production).
Step 1:
Get your artwork to us. Remember, these can be ANYTHING you can imagine, not just the striped examples we show below. See the slide show and video for examples. We can take any file format you want to send us, but try not to use Word. Specify the colors we should use EXACTLY. If you need a specific color, use the chart shown for reference. IF YOU SPECIFY A PANTONE PMS COLOR, YOU MUST LOOK AT A REAL PANTONE COLOR BOOK IN PERSON, YOUR MONITOR WILL NOT REPRESENT THE COLOR ACCURATELY. ANY PAINT STORE OR HOME IMPROVEMENT SHOP WILL HAVE THEM. Artwork charge is $60. Numbering can be added for additional $2 per garment.
Step 2:
Choose what items you want from the table below. Make a list of sizes for each one.
Step 3:
Art approval and confirmation. We will email you a proof of the design and get confirmation to begin production. From this time, allow 8 weeks for delivery.
When ordering(by phone or email), please specify: Model #: (all $50 unless noted otherwise)
Quantity discounts: 1-11: $53.00 12-23: $37.99 24-50: $31.99, 51+: call for a quote.
Tops
Shorts/Lycra
Warmups/Shirts

S82113 VS Custom Sublimated Singlet M (YM-3X)

S82213 VS Custom Sublimated Singlet W (YM-2X)

S82272 VS Custom Sublimated Shimlet (XS-XL)

S82162 Sleeveless Compression Top (YM-3X)

S82323 VS Sublimated Split Short M (2.0") (YM-3X)

S82305 VS Sublimated Short M (5.0") (YM-3X)

S82200 VS Sublimated Short W (2.0") (XS-3X)

S82107 VS Sublimated Loose Fit Short M (7.0") (SM-3X)

S82222 VS Sublimated Boycut Short (YM-XL)

S82193 VS Sublimated Half Tight (YM-3X) add $5

S82153 VS Performance S/S T-Shirt M (YM-3X) add $10 to above prices.

S82253 VS Performance S/S T-Shirt W (YM-3X) add $10 to above prices.
Fabric: Poly/Mesh (loose fit) or Poly/Spandex (tight fit) Colors: stripe(s), trim color, and logo color - see the customizer in the Sample Templates for examples (top pf page). Quantities, Gender and Sizes Your complete contact information. Email orders should be sent to sales. You can use this PMS color as a guide if your school doesn't have an official PMS color. If you have Photoshop skills, you can use the sample templates at the top for coloring your design and email them to us. Horizontal Stripe Template, Vertical Stripe Template, Solid Template - Solid Back Template. (right-click and "save-as" to your pc.) Each of the sample templates at the top has a Customizer to let your creative side explore color combinations.(logos can only be added by using the Photoshop templates listed above.)
"Our sublimated uniforms turned out great! They were exactly what we envisioned. VS Athletics was great throughout the whole process and got the uniforms to us fast. I look forward to doing business with VS Athletics again." - Clinton Nims, Grand Valley High School Track
"Got the singlets and shorts today. They are beautiful! I just wanted to say thank you for a quality product. Even though there are similar products available closer to Illinois, I continue to order all the way from across the country because you guys make it worth it! Last year Rockford Christian's top distance runner, Justin Rehfeldt, crossed the finish line 3 times as a state champion (XC, 1600, 3200) wearing a custom VS singlet. He'll look good doing it again this school year in this new singlet. Thanks so much. Randy Moore English Teacher Head Track/Cross Country Coach Rockford Christian High School"- Clinton Nims, Grand Valley High School Track

See below for other brands offered.